serves South Carolina from the midlands area. For more information contact:

Mary Williams
PO Box 3545
Columbia, SC 29230-3545
email: starseekergr@gmail.com
Sandy's Happy Ending
Sandy has now passed away but had a wonderful life.
Thank you for loving this very special girl!
| | |
| --- | --- |
| | Sandy was taken into emergency custody when her owner was committed to a mental institute. She was eleven years old and being starved to death. She was full of mats and bed sores but wanted to love and be loved. She weighed about 30 pounds when received. |
Sandy recuperated at Midlands Golden Rescue and was adopted by Alicia. Here's what Alicia has to say about Sandy:


I've had that dear Miss Sandy now for 5 months, and I want you all to know she's doing wonderfully. She fit into the family like she'd been here her whole life, and continues to thrive with her 10 month old companion, Cullie, whom she puts in place frequently. She plays rough with him frequently also, so evidently she's still feeling spry.

During the 5 months that I've had her, she's spent a month at the beach (she doesn't swim), 4 months in the mountains where she's seen a few flakes of snow, and two weeks in Orlando (she loved the warm weather). She is an excellent traveler and houseguest when we're on the road, being very quiet and respectful of others.

Her health is good, although she has a minor breathing obstruction, but I don't want to subject her to anesthesia to identify it at this point. She has been on meds for her joints, which are stiffer in the winter weather and they seem to help. You can tell she is a chow hound from way back (and understandably so), especially relishing canned food, jerky treats, and rawhide chews.

What a sweet compliant girl she is, which is amazing considering her background. She does not seem to have a temper at all except when young Cullie pushes her to the brink! I intend to continue making her as comfortable as possible, giving her as many experiences as she can handle. And when she can't handle more, she has a huge pillow-bed next to mine where she rejuvenates.

Rest assured, all you wonderful Midlands people, who helped rescue her, that Sandy is well cared for and well loved. For whatever time she has left, she will be the queen of the household.
Sandy Now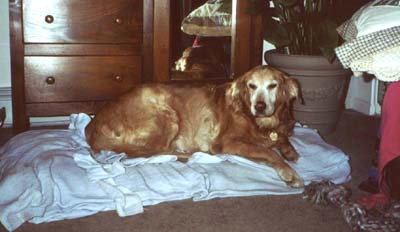 Read the conclusion of Sandy's story
Return to Midlands page.